100% Vermont‐Approved ATV Safety Course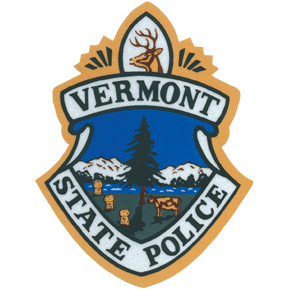 A course on safe and responsible ATV operation approved by the Vermont State Police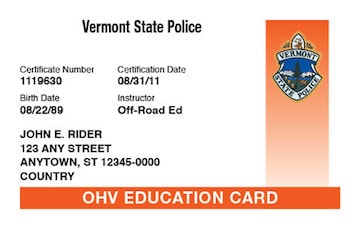 Lifetime Card
Vermont-Approved ATV Course
The Vermont Offroad Ed Course is approved and accepted by the Vermont State Police.
What's Included in an Approved Course
A wide variety of topics are included in this Vermont course.
The basics of safe ATV operation
Responsibilities of off-road vehicle operators to others and the environment
General information on preparing for the unexpected
The educational content in this course can help you enjoy off-roading safely and with less impact on the environment.
Common Terminology
Terms for off-road vehicles vary from state to state. These common acronyms are used to refer to vehicles.
ATV
All-Terrain Vehicle. A type of OHV with low-pressure, knobby tires designed for riding on unpaved surfaces.
OHM
Off-Highway Motorcycle. A category of motorcycles equipped for certain off-road sports. These motorcycles may or may not be "street-legal."
OHV
Off-Highway Vehicle. A two-, three-, or four-wheeled vehicle that has a motor and is designed for riding on unpaved surfaces. OHVs are also commonly known as ORVs.
UTV
Utility Terrain Vehicle. A type of OHV where the driver and a passenger can sit side-by-side in the vehicle. They are most commonly known as UTVs (Utility Terrain Vehicle, Utility Task Vehicle, or just Utility Vehicle) or Side-by-Side Vehicles. UTVs are not designed for use on paved surfaces.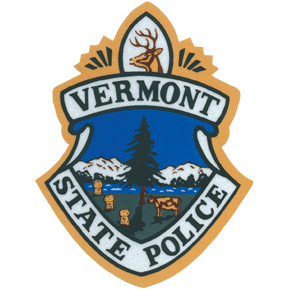 Vermont State Police
103 S. Main St. Waterbury, VT 05671
We're people, not robots.
Your Offroad Ed course comes with a dedicated customer service team made up of real people, not robots. We're here to provide assistance to you through all channels—phone, email, and chat.
We're available to help you:
Mon-Fri 8am to 8pm CST
Sat-Sun 8am to 5pm CST
1-800-830-2268 (toll free)